​The implosion of the temporary reality we have all known is already well under way, the collapsing Chinese stock markets are only a harbinger of what is to come. Global shipping is in free-fall as shipping rates plunge, unlimited money printing can no longer hide what is unfolding around the world.  China has kept its deceptive GDP (Gross Domestic Product) going in the past in the same manner as the rest of the global economy – with smoke, mirrors, and lies. "Ghost cities" were one of the methods used by the Chinese to keep the illusion of growth going. Now, the inevitable is taking hold, the illusion is disintegrating by the day. The images below are cities with no inhabitants which were constructed to keep the wheels of industry turning and the GDP rising in the East.
An eerily vacant Yingkou is only one of numerous ghost cities in China
The Chinese have constructed ghost cities in locations as far away as Angola
The image below is from what has been termed "The scariest housing bubble"
The completely out of control manufacturing of automobiles to create the illusion of a recovering auto industry is an extension of the Chinese ghost cities philosophy.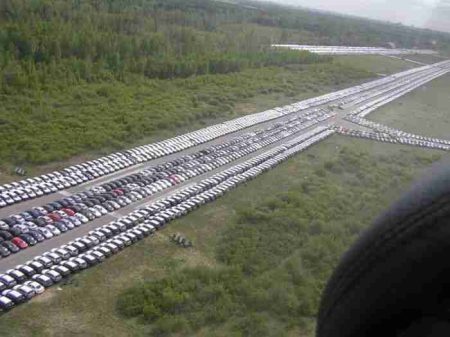 Above is an image of thousands upon thousands of unsold cars parked up on a airport runway near St Petersburg in Russia.  They are all imported from Europe, and then parked and left to rot. Consequently, the airport is now unusable for its original purpose.